Term 3 Newsletter 3rd August- 2023
PRINCIPAL'S MESSAGES
GROWTH MINDSET
Overcoming challenges or adversity is a lifelong skill that takes time and experience. In life, we often encounter obstacles and face challenges that test our resilience and determination. It is during these moments that our true character shines through, and we have the opportunity to grow and learn. Here at St Francis, we believe in fostering a growth mindset—a belief that abilities and intelligence can be developed through dedication, effort, and a willingness to learn.
The following strategies may help you and members of your family overcome challenges:
Embrace Resilience: Resilience is the ability to bounce back from setbacks and adapt in the face of adversity. By embracing resilience, we can maintain a positive attitude, persevere through difficult times, and keep moving forward.
Seek Support: Remember that you are not alone. Reach out to teachers, mentors, and peers who can provide guidance and support. Together, we can brainstorm ideas, offer different perspectives, and find solutions that may have been overlooked.
Foster a Growth Mindset: View challenges as opportunities for growth and learning. Instead of being discouraged by setbacks, approach them with curiosity and a determination to improve. Recognize that failure is not a permanent condition, but rather a stepping stone on the path to success.
Break it Down: Sometimes, challenges can appear overwhelming. To tackle them effectively, break them down into smaller, more manageable tasks. By taking one step at a time, you can make progress and build momentum towards your goals.
Think Creatively: Encourage yourself and others to think creatively, challenge assumptions, and consider different perspectives. Innovation often arises from finding unexpected paths to overcome obstacles.
Learn from Setbacks: Every setback holds valuable lessons. Take the time to reflect on what went wrong, what could be done differently, and how to apply those lessons to future endeavours. Remember, setbacks are not a reflection of your worth but an opportunity for growth.
As we each navigate the challenges that come our way, let us remember that challenges are not roadblocks but stepping stones on our journey towards personal and academic growth. Together, we can foster a supportive environment where perseverance, resilience, and the pursuit of excellence are celebrated. Wishing you strength and determination for many years to come.
Up-coming events
Week 5
Tues 8 Aug – St Mary MacKillop Feast Day
Week 6
Tues 15 Aug – Assumption of Blessed Virgin Mary
Wed 16 Aug – Hearing Assessments at St Francis
Week 7
Mon 21 Aug – Book Week Celebrations at St Francis – all welcome to attend
Wed 23 Aug – DD Athletics – Good luck Rhys Gascoyne
Fri 25 Aug – Confirmation at Clifton Church – 6:30pm – all welcome
Sun 27 Aug – Family Sunday Mass – 9:30am – First Eucharist for Sacramental Students
Week 8
Thurs 31 Aug – Father's Day Liturgy 8:45am / BBQ 8:00am
Fri 1 Sept – CTJ Day – Pupil Free Day
God bless and thanks for reading…
Regards,
Brendan
Confirmation and First Eucharist Students
This term Shaneil, Daniel, Rhys, Matilda and Joseph have participated in their confirmation and holy communion lessons. This is an important part of their Catholic journey. The candidates have been responsive in their weekly lessons. Each student has prepared a poster of their chosen Catholic saint. We thank the parents for their wisdom and guidance during this time and wish the children many blessing for their confirmation and holy communion on the weekend of the 25th August. Please join us after family mass for a cuppa and light morning tea.
CD Sport
Catholic Education Week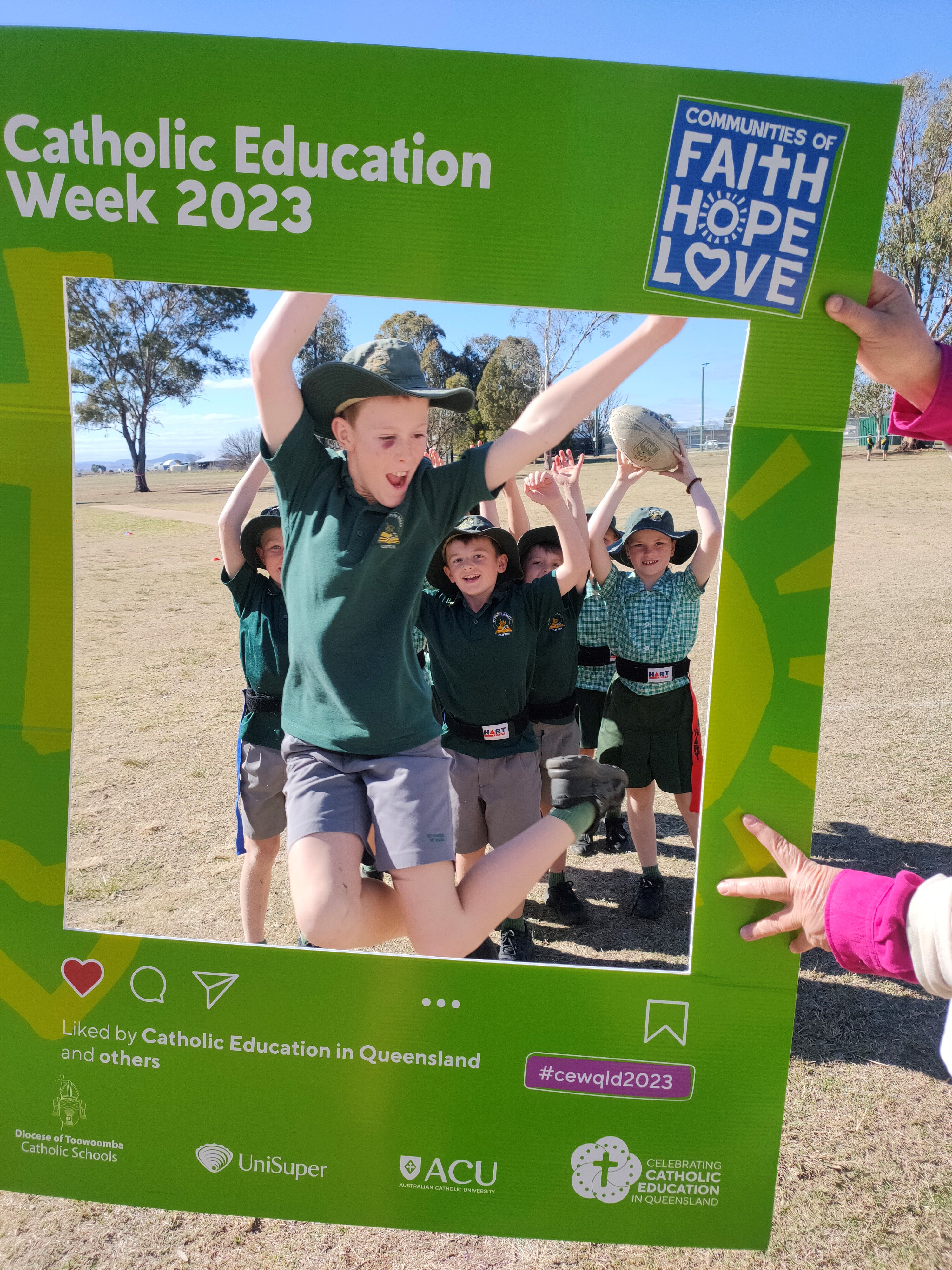 PREP/YEAR 1/Year 2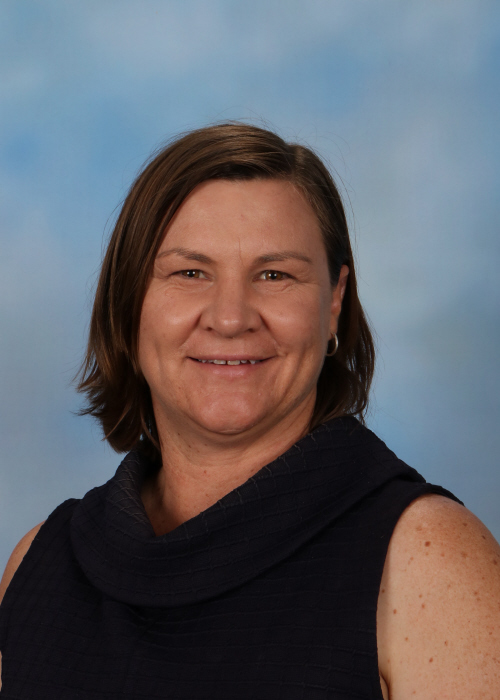 Prep/Year 1/Year 2
In Science, we have been learning about life cycles and how living things, change as they grow. This fortnight, we focused our learning on frogs and butterflies. Students listened to and read factual texts about frogs and butterflies, asked questions as well as investigated and compared the changes that occur to these living things during their life stages. Prep and Year 1 students sequenced pictures to describe the life cycle of a frog and butterfly while year 2 students wrote about each stage of the cycle and explained what they learnt.
In Religion, students learnt about the creation story and the sacredness of all creation. They discussed ways they can be stewards of creation in their home and school. Students examined ways in which the wisdom of Saint Francis of Assisi helps believers to nurture their relationship with God, with others and all creation.
In Writing with Mrs Drysdale, students began to write their own version of Possum Magic, using a picture stimulus.
YEAR 3/4
Year 3/4
During English we have been writing procedures using The Magic Hat by Mem Fox as inspiration. We completed our design challenge and created our magic hats. Some students were a natural on the cat walk when modelling their hat. Upon reflection we made changes to our designs and adapted to different materials. It's a great skill to be able to create, test and adjust.
In Math we've started our unit on multiplication and division with division as the explicit teaching focus. We've introduced the long division symbol and the concept of remainders. We're looking for patterns and tricks to help us recall division facts while accessing visuals and hands on materials.
During Religion we've been learning about Joseph's story. Did you know Joseph was a carpenter, was his father's favourite son and was known for interpreting dreams? We have drawn connections from the old and new testaments comparing Joseph's story to that of the Prodigal Son.
Year 5/6 News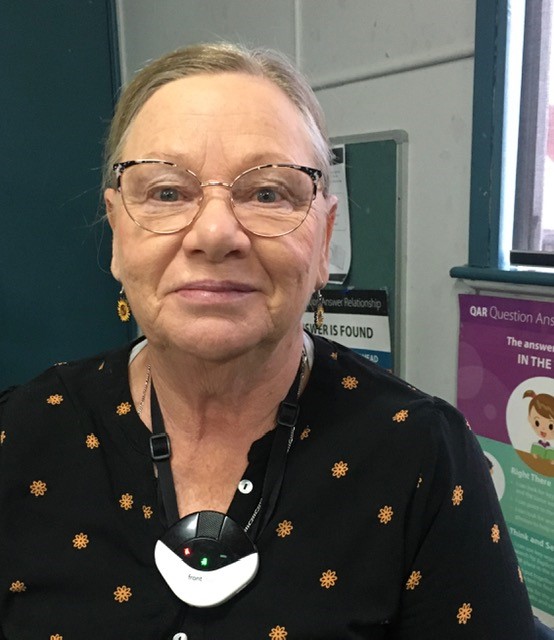 Year 5/6
In year 5/6 the students have been developing their knowledge of information reports and how to draw information from a text or internet research.
The development of this knowledge will allow students to draw on their knowledge and skills to understand and complete their Science, HaSS and English assessment. Science and HaSS are around Natural Disasters and this ties in with the English unit as it uses the learning in these units of work to complete their English task of writing an Information Report.
Religion: we are studying the many ways in which faith is lived out in the lives of believers past and present, including Catholics in a developing Australian nation (c. 1900 CE to present). We are learning about the significance of Jesus' New Law for the way believers live their faith. This week we have extended our examination of Jesus' New Law by researching organisations such as Caritas and St Vincent's De Paul and link the organisations to a Saint where possible.
SPORT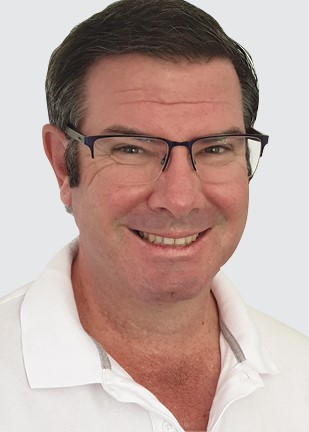 PE with Mr Red
We have continued our focus of catching, passing and spreading out in the skills of netball, rugby league and touch. We also have worked on kicking the rugby league ball in different ways (chip, grubber, drop kick to name a few). All the students are enjoying the fun and challenging activities this term.
Southern Downs Athletics Update
Congratulations to Eve Skillington, Sophie Joppich, Mick Willett, Bryce Bateman and Rhys Gascoyne, who represented Central Downs this week at the Southern Downs Athletics Carnival. A special shout out to Rhys, who won the 9 years long jump event. He will now represent Southern Downs at the Darling Downs trials in a fortnights time.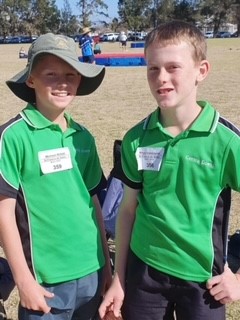 P & F UNIFORM SHOP
Uniform Shop Co-Ordinator: Kylie Hay
Contact Details: kurlz@live.com.au or 0487 582 107
Uniform Shop Days: MOST Thursdays & Fridays
If you would like uniforms, please fill in the updated Invoice Sheet and email or text Kylie to either arrange a time to meet or for the order to be sent home with your child. If you have an old invoice copy, please bin it and replace with our updated one. This can be found on the Facebook page or request one from me directly.
UNIFORM SHOP NEWS
We now have EFTPOS available in the Uniform Shop at the time of collection
We have some good quality second hand winter uniforms and also summer uniforms available for $5 per item if you're looking for an extra jumper, shirt, shorts etc. Please note that only limited sizes and items are available but you are welcome to request second hand if available.
We are no longer stocking the following items however we still have limited stock available for a discounted price if you would still like to purchase them.

Green Fleece Vest $10

Sizes 4,6,8,12 & 14 available

Long Sleeve Boys Polo Shirts $15

Sizes 4,10,12,14 & Small available

Girls Green Long Formal Pants $10

All sizes except 10 available

Girls Green Long Sports Pants $15

Sizes 4,6,8,10 & 16 available
If you urgently require uniforms on a day other than Thursday or Friday, please let me know and I can arrange this with the staff at St Francis De Sales. Please note I do work and will get back to you as soon as I possibly can.
STUDENT PROTECTION CONTACTS
Feeling Safe- All students have a right to feel safe and be safe.
If you are concerned about any form of abuse that is immediate, you should call 000. A significant risk or harm to a student, whether or not you have formed this belief on reasonable ground, should immediately be raised with one of our Student Protection Contacts.
ADMINISTRATION
School Fees:
We do recommend the setting-up of a direct debit facility to pay regular amounts into the school account. This alleviates overdue bills.
SCHOOL Bank Details
BSB: 064786
A/C: 100023789
Reminder: All P&F payments & Uniform payments are paid to a different bank account NOT the school account.
P&F Bank Details
BSB: 084610
A/C: 508684159